Who We Are
RARE Hospitality is a leading Hospitality services company with over 3 decades of existence and experience, It was Founded by Ammin Rajkotwala and Myron Fernandes, who led the organisation to be one of the finest in the FM sector. RARE Hospitality has been managing some of the marquee clients, since inception and continues to one of the premier service partners to an esteemed clientele.
In 2018 November RARE joined hands with India's Public listed, largest Business Services Group SIS, a market leader in Security, Cash Logistics and Facilities Management. With this association and investment, RARE is now equipped with strong growth projections and leadership support. RARE maintains premium properties ranging from Banks, Hospitals, Corporate Complexes, Refineries, Hospitals, Corporates Catering, and Guest Houses.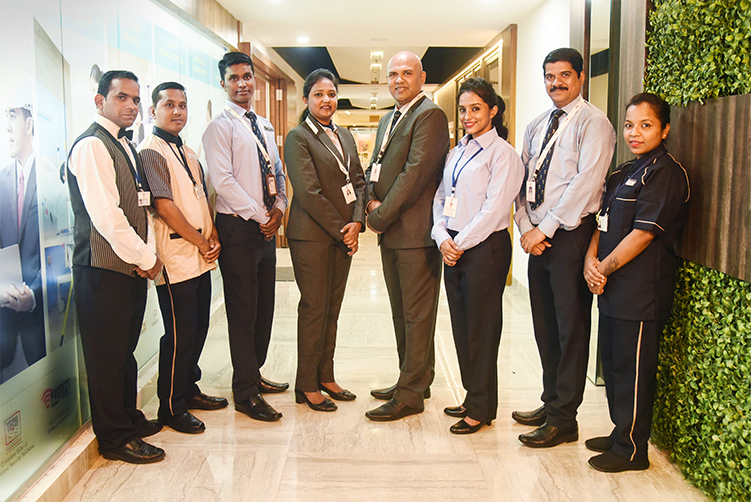 RARE Expertise
RARE provides productivity-based value proposition with Comprehensive Hospitality Management Services to our partners in Retail, Manufacturing, Corporate offices, Residential and have core specialization in Healthcare and Hospitality Facility Management. We analyze every client requirement to implement customized Local solutions in line with Global best practices.
RARE Advantage
We provide technology based maintenance solutions, advanced and innovative Smart Cleaning Processes, infection and cross contamination controlled programs for healthcare sector, provide subject matter expertise in green concepts for specific sectors. Technical partnership with our international partners resulting in high productivity, equipment lifecycle, low human effort and value for money.
How to prepare businesses to deal with these unprecedented times?
The 3 services recommended as three stages.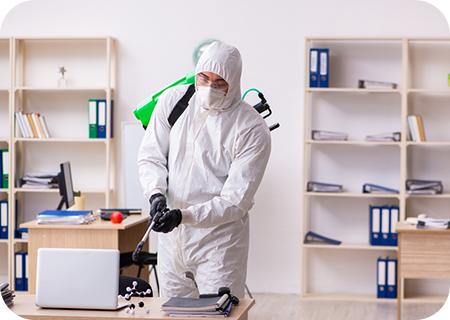 Stage 1 - Before Resuming Operations
Aerial Disinfection – This is the best option for today's scenario given to understand there could be surfaces that may have been contaminated by infection. This holistic disinfection process in a given space covers the ceiling, to objects, to floor surfaces, and every corner/pocket which may have a human error. This is for pre-opening and a one-time service to bring the space up to speed to start the business.
Stage 2 – Quarterly basis
Anti-Microbial treatment – Antimicrobial technology works at a cellular level to continually disrupt the growth and reproduction of microorganisms. It operates a multi-modal attack, damaging the protein, cell membrane, DNA/RNA, and internal systems of a microbe.
> Prevent cross-contamination
> Keep surface protected for 90 days
> Eliminate the risk of communicable infections
> Effective against all microorganisms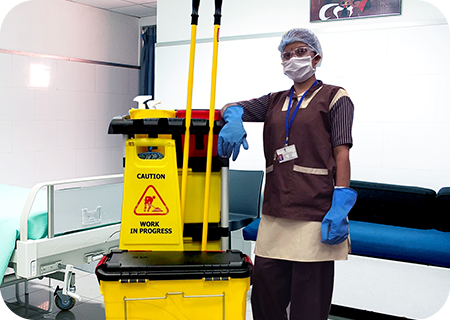 Stage 3 – Daily Cleaning Activity
Surface Disinfection Program – Transforming from traditional cleaning practices to a scientific disinfection set of processes to promise clean, hygienic & disinfected surfaces with measurable outputs.
> Mechanized cleaning system
> Micro-fibre cart system
> Colour coded Micro-fibre Dusters/Mops
> Divermite system & Mechanized Laundry
> Advanced Monitoring
> Tech-enabled Reporting
Testimonials
Best contractor safety performance award presented to Rare Hospitality Services for their best safety performance.
On behalf of beams hospitals' family, we would like to express our satisfaction and appreciation to Rare Hospitality & Services (P) Ltd. All housekeeping staff were helpful during the vocation.
We would like to congratulate you for the exemplary performance you have shown towards the responsibilities given to you.
I am very glad to inform you that myself and the management of saifee hospital are extremely happy about you and your team's work. I would like to congratulate on behalf of my management at saifee to you and your entire team for honesty and integrity shown by your staff. We hope to receive the same dedication and sincerity from all your staff.
Our Clients